As part of its efforts to combat money laundering and other crimes, the Singapore government amended the Singapore Companies Act and Limited Liability Partnerships Act in March 2017 to improve the transparency of ownership and control of companies and limited liability partnerships ("LLPs") in line with international norms. Companies and LLPs will be required to obtain and maintain information about their beneficial ownership and control. We set out below a summary of the changes.
1 . What has changed in a nutshell?
With effect from 31 March 2017, companies and LLPs affected by the changes will have to comply with the following:
a) Take reasonable steps to identify their registrable controllers.
b) Maintain a register of registrable controllers.
c) Keep the particulars of their registrable controllers up to date.
d) Be able to produce the register of registrable controllers and any related document to ACRA or public agencies such as IRAS, CPIB or CAD.
ACRA has set out further detail on how to comply with the above (including the forms of notices to be sent out and the form of registers to be kept) on their website.
2. Which companies and LLPs will be affected?
Most:
Singapore incorporated companies;
Foreign companies registered under the Singapore Companies Act; and
Singapore registered LLPs registered in Singapore;
will need to comply with the new rules.
Certain types of companies and LLPs are exempted. Examples of exempt companies and LLPs include:
Listed public companies on SGX and certain foreign securities exchanges.
Singapore financial institutions.
Companies wholly owned by the Singapore government or certain statutory boards.
Wholly owned subsidiaries of the above entities.
3. What is a "controller" of a company of LLP? Who is a "registrable controller"?
An individual or legal entity will be regarded as a "controller" of a company or LLP, if that person has "significant interest" or exercises "significant control" over that company or LLP.
Examples of "significant interest":  a person will be regarded as having "significant interest" if:
that person owns of more than 25% of the shares in a company; or
has more than 25% of the total voting rights in a company.
Examples of "significant control": examples of "significant control" include situations where a person:
has the right to appoint or remove directors of a company who hold a majority of the voting rights at directors' meetings;
holds more than 25% of the rights to vote on those matters reserved for voting by the company's shareholders; or
has absolute decision making and/or veto rights over the company's significant business decisions.
To avoid duplicative reporting, a "controller" of a company or LLP needs to be "registrable".
To illustrate this point, consider the following structure: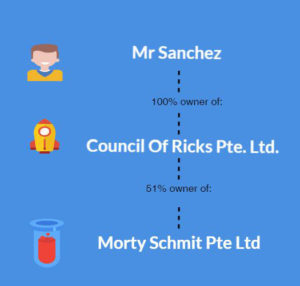 In the above example, Mr Sanchez is a "registrable controller" of Council Of Ricks Pte. Ltd. , and Council Of Ricks Pte. Ltd. is a "registrable controller" of Morty Schmit Pte. Ltd.
Mr Sanchez would not, however, be a "registrable controller" of Morty Schmit Pte. Ltd.
4. My company already maintains a register of members. Does my company still need to create and maintain a register of controllers?
Yes. The register of controllers is separate from the register of members.
5. What is the deadline for compliance?
The deadlines are as follows:
| | |
| --- | --- |
| Type of Company/LLP | Deadline |
| Companies /LLPs incorporated on or after 31 March 2017 | Within 30 days after the date of incorporation. |
| Companies/LLPs incorporated before 31 March 2017 | 30 May 2017 |
| Companies/LLPs which are not required to maintain a register but are subsequently required to do so (e.g. companies which de-list from SGX) | Within 60 days after being required to maintain the register. |
6. Conclusion
As the requirements for compliance with the registrable controller rules are technical and complex, companies should consult professionals (such as their company secretary) for advice.
For incorporation and corporate secretarial matters please email Candoer Services Pte Ltd at jiekai.koh@candoer.co .
For legal representation, please email Peter Low & Choo LLC at jiekaikoh@peterlowllc.com .